对膝盖和肌肤效果的验证
LINISE不仅制造产品、也着重于研究产品在体内如何起作用及效果程度如何。我们的研究不会满足于此、我们会继续探求蛋白聚糖与鲑鱼的未知可能性。
在一项涉及60名膝盖有不适感的健康人的临床研究中,评估了鲑鱼鼻软骨提取物(含有40%未变性 II 型胶原蛋白和30%未变性蛋白聚糖,50毫克/每天)对膝盖的影响,并与安慰剂和氨基葡萄糖盐酸盐的作用进行比较。 WOMAC 和 VAS 评估结果显示,鲑鱼鼻软骨提取物可缓解膝关节疼痛。 (右图:走楼梯时左膝疼痛的 VAS 评分的变化和转变。)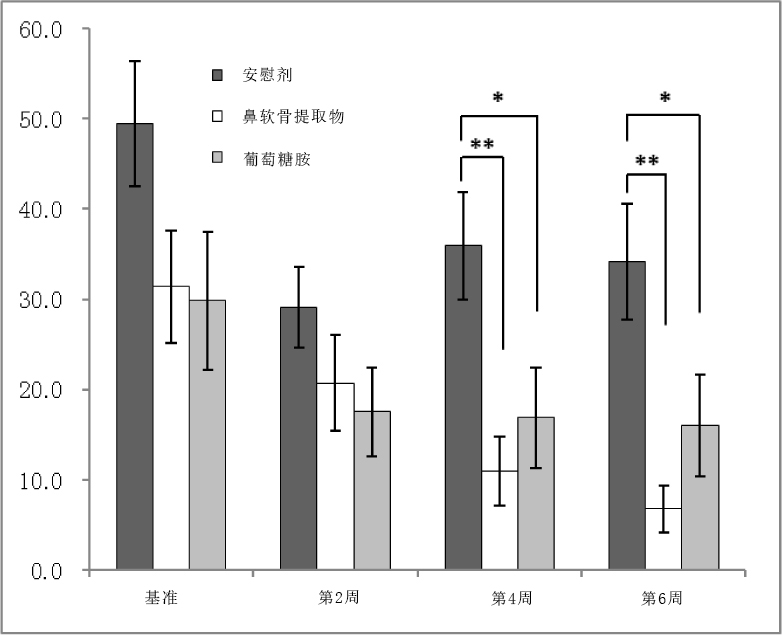 Kuriyama Y 等人。服用鲑鱼鼻软骨提取物(包含未变性 II 型胶原蛋白和未变性蛋白聚糖)对膝关节疼痛的影响。 《新药与临床杂志》。 2016年;65(11)。
我们聚焦痛感强烈的患者膝盖,对前期获得的实验数据重新进行了解析。与对照组相比,摄入了鲑鱼鼻软骨提取物的实验组在 6 周后,VAS 疼痛评分(静息状态下、上下楼梯状态下)显著降低。与氨糖实验组相比,6 周后的 VAS 疼痛评分未出现明显改善。
通过此次重新解析,我们可以明确证实,在持续 6 周摄入鲑鱼鼻软骨提取物后,膝盖疼痛会有所缓解。
VAS 疼痛评分变化情况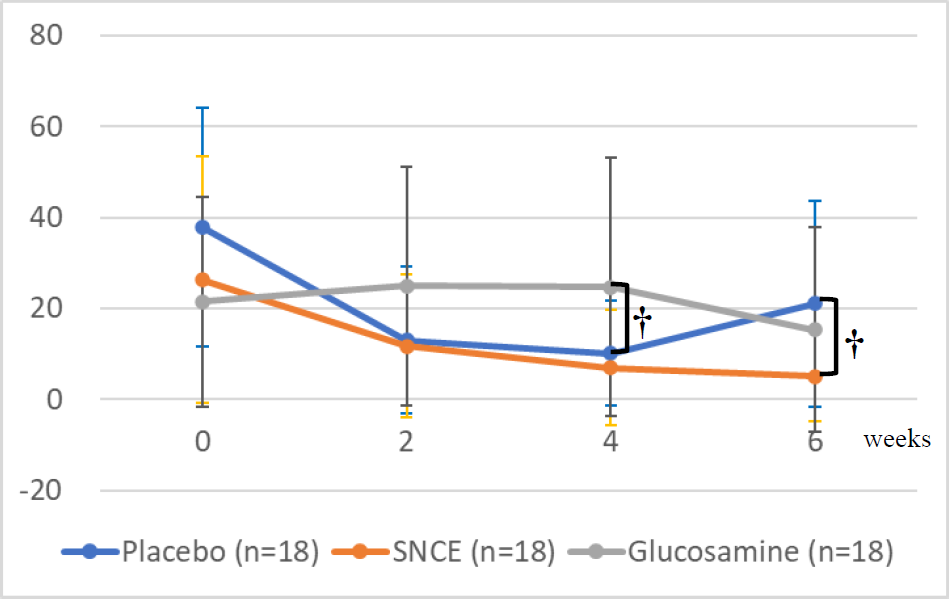 静息状态下
[SNCE组] 18名受试者,每日摄入量:SCP Complex-LS(含非变性Ⅱ型胶原蛋白及非变性蛋白聚糖)50mg
[Glucosamine组] 18名受试者,每日摄入量:盐酸氨基葡萄糖1,500mg
[Placebo组] 18名受试者,每日摄入量:乳糖50mg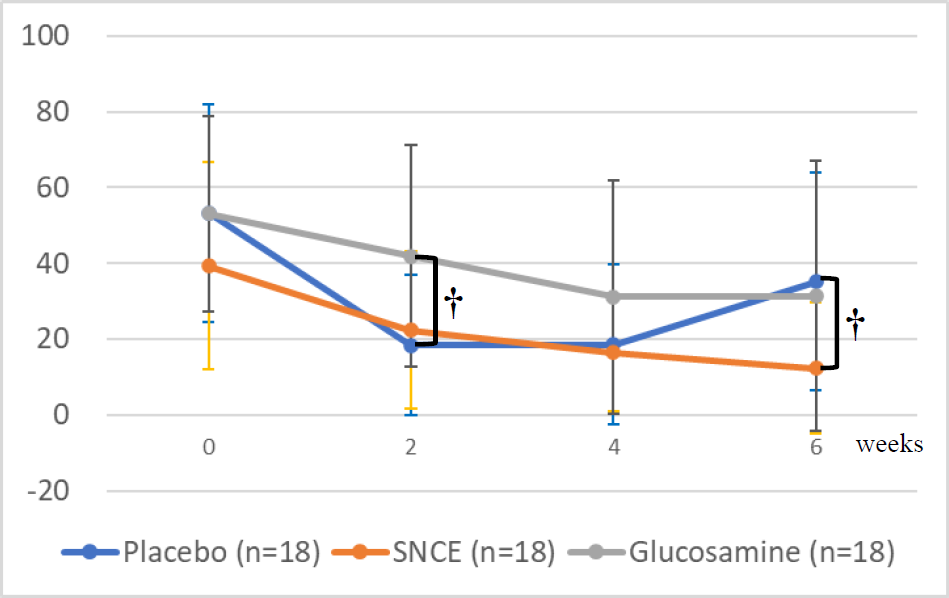 上下楼梯状态下
Kuriyama Y, et al. Effects of Salmon Nasal Cartilage Extract Powder Standardized Undenatured Type II Collagen and Proteoglycan on Knee Pain in Healthy Volunteers—A Single Center Randomized, Double-blind, Placebo-controlled Study—: Re-analysis results focused on the knee with stronger pain. Jpn Pharmacol Ther. 2020;48(11).
Soluble Proteoglycan
In a dermatologist-supervised clinical study†,
The effect diminishing the appearance of wrinkles caused by drying was demonstrated. †Conducted by the third-party institution according to the Guideline for Evaluation of Anti-wrinkle Products established by Japanese Cosmetic Science Society.
Soluble Proteoglycan produced by Linise (Hokkaido, Japan) was applied around one eye for comparing the appearance of wrinkles with around the other eye.
Participant
17 healthy Japanese females (mean age: 40.3 [36-45] years old)
Study Period
6 weeks
Evaluation Methods
Determining a wrinkle grade by visual and photo evaluations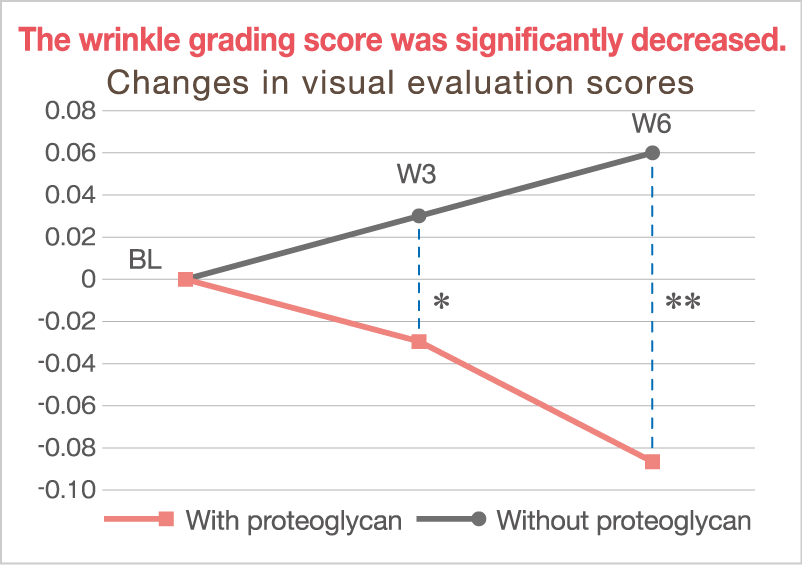 As the results of comparing wrinkles between baseline (BL), 3 weeks later (W3), and 6 weeks later (W6), the wrinkle grading score was decreased at the corner of eye on the proteoglycan-applied side.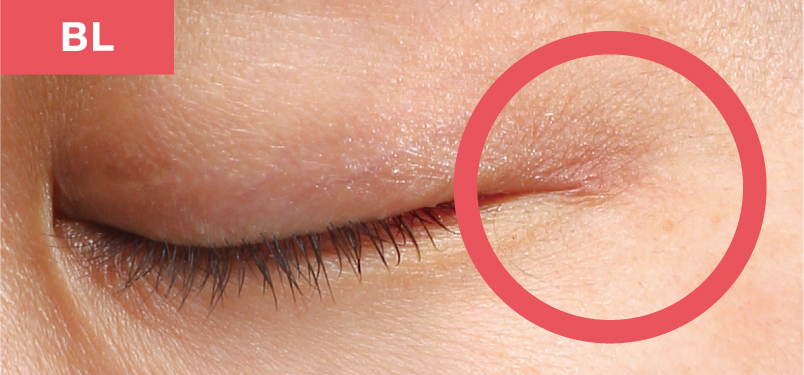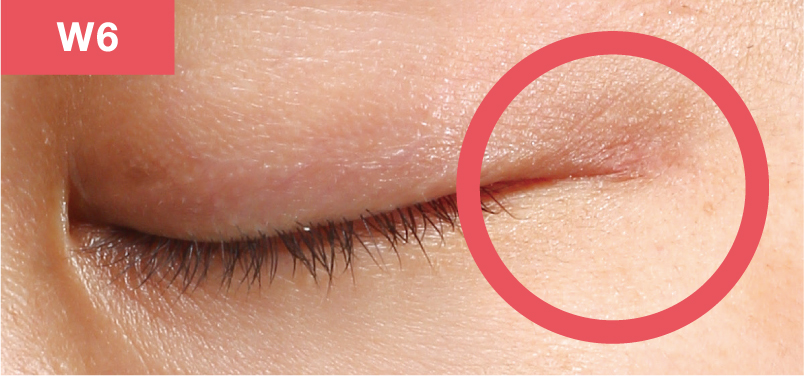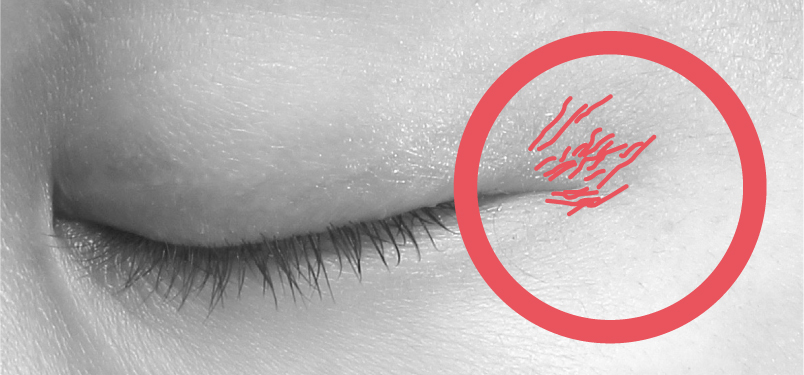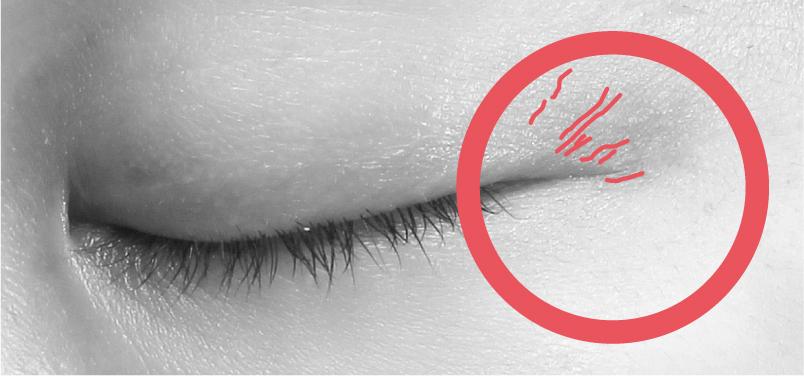 The skin-moisture measurement showed an increase in moisture level.
As the result of comparing skin (horny layer) moisture between BL, W3, and W6, all subjects showed an increase in moisture around the eye where Soluble
Proteoglycan was applied.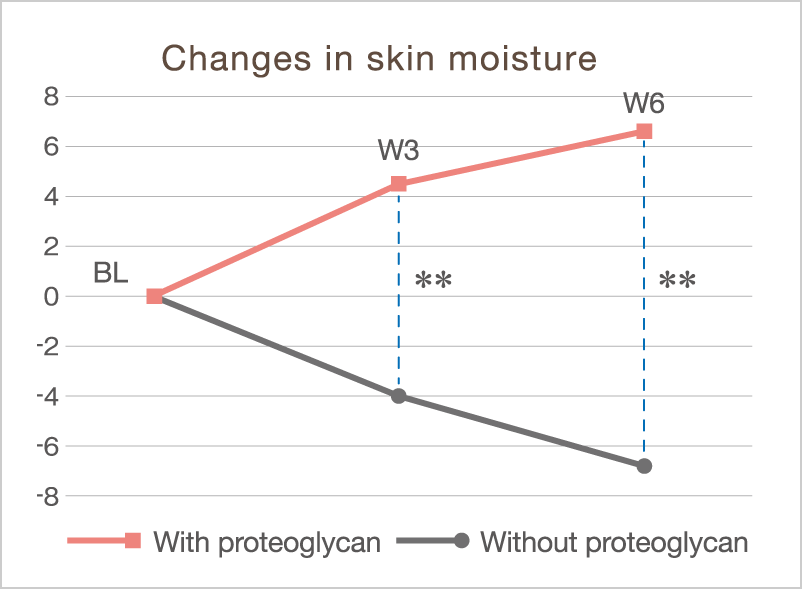 The result of questionnaire survey conducted at W6 indicates that many participants felt improvement in their skin condition.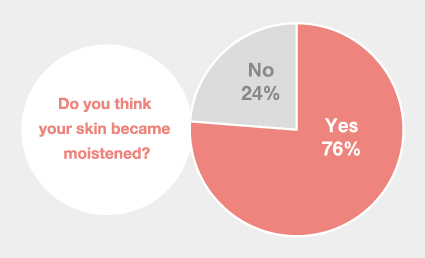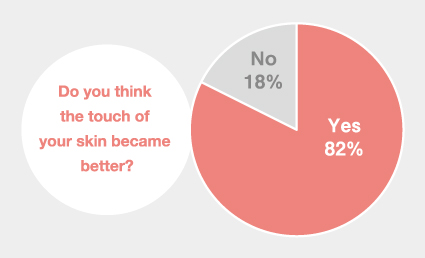 Participant's Comments
✓ I can notice the improvement of firmness around the eye.
✓ My skin became very moistened, I wanted to keep using the product a little bit longer.
✓ Very nice feeling of hydrated skin.
✓ Happy with the effect on fine wrinkles.
✓ Moistened.
✓ I am satisfied by the improvement in skin moisture around the eye.
✓ Seemed like the crow's feet were diminished. I felt my skin was hydrated.
✓ High moisturizing effect.
✓ Seemed like my skin was moistened and became a little plump.
✓ Great. The eye is looked clear and winkles are diminished.